Cooler
The summer days are coming again and that means high temperatures! With the hot days, we all want to cool off. It is also important to drink a lot with the hot weather. Don't you like those lukewarm drinks either? A cooler is the solution to keep your food and drinks cool. They come in different colors, from pink to blue to yellow. There's plenty to choose from! The cooler is the perfect companion for a day out, picnic, tour or camping adventure. So you can enjoy the nice weather and cool off at the same time.
How does an electric cooler work?
An electric cooler works the same way as a regular refrigerator, but on a smaller scale. The cooler uses a refrigeration system consisting of a compressor, evaporator and condenser to lower the temperature inside and keep food and beverages cool. The refrigerant absorbs heat from the cooler and transfers it to the condenser on the outside of the cooler, where it is dissipated. In this way, the inside temperature gets lower and lower. Some electric coolers even have a freezing function and/or a heating function, giving you a lot of freedom with what you want to put in the cooler. The boxes are easy to use and can be connected to the power supply of a car, boat or caravan. It's all possible and this makes it a convenient product.
How does a cooler with cooling elements work?
This cooler works differently from the electric one. With this one, you do not need to put a plug in the socket, because the operation of the cooler with cooling elements is different. It is a loose box that is well insulated. In this passive cooler you put frozen cooling elements, so you have to put them in the freezer beforehand. They are usually filled with a liquid that stays at low temperatures. Thus, they lower the temperature inside the cooler, keeping food and drinks cool. It won't stay cool for a whole day with a high temperature. Still, the advantage is that you are not stuck with electricity. Therefore, they are portable and convenient to take with you. So you can go anywhere with the cooler you want!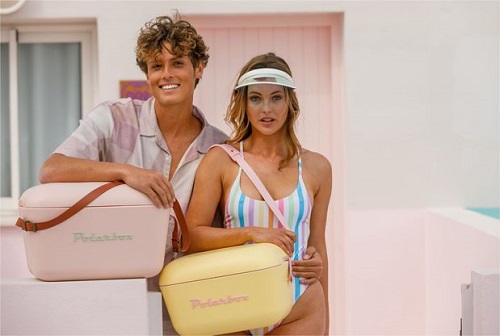 What kind of cooler do I need?
So the main coolers are the electric cooler and the cooler with cooling elements. Both have advantages and disadvantages that can influence your choice. It is therefore useful to consider carefully what is the best option for you. That is why we have listed everything for you.
Advantages and disadvantages of an electric cooler
Easy to use: First of all, they are very user-friendly and when connected to the mains, they come on immediately.
Stable temperature: Because this cooler works when connected with electricity, the temperature stays around the same degrees Celsius. The temperature outside does not affect the inside of the cooler.
Freezing function and/or heating function: Some electric coolers have such a function, which only increases the possibilities of using a cooler.
Dependent on electricity: This cooler only works once it is connected to the mains. This could work to your disadvantage when you want to spend a day at the beach with the cooler.
Less portable: The electric coolers are often larger and heavier, making them less easy to carry.
Advantages and disadvantages of cooler with cooling elements
No dependence on electricity: These coolers are not dependent on the power grid, so they can go anywhere.
Easy to carry: Since the cooler with cooling elements is meant to be carried anywhere, it is easy to carry.
Silent: The cooler does not need to be connected to electricity, so it does not make an annoying noise.
Short life of the cooling elements: The cooling elements inside the cooler will eventually stop being cold enough to properly cool the inside.
How long does a cooler stay cold?
You want to enjoy the cold drinks from the cooler for as long as possible on a hot day A cooler can stay cold for up to 24 hours, depending on several factors such as the ambient temperature, the quality of the cooling element and how often the cooler is opened. It is also important to make sure the cooler is tightly sealed to keep cold air in and hot air out. This way you can keep the contents cooled for as long as possible. An electric cooler can cool to about 20 degrees below ambient temperature. Suppose it is 25 degrees in the caravan, the cooler can cool to at least 5 degrees. So you have to take this into account on a day with high temperatures. In general, the larger the cooler is and the more cooling elements are used, the longer the cooler stays cold.
How many gallons of cooler do you need?
Besides the fact that coolers can have different functions, they also come in different sizes. These sizes are expressed in liters. There are small coolers and large coolers; there is an option for every occasion. It just depends on how much food and drink you want to take with you. If you are going for a short picnic or a bike ride, then a mini cooler is recommended, these are about 10 liters or 12 liters. This is sufficient if you only want to bring some drinks and a small snack. Do you want a whole day on the road with several people? Then a 20-30 liter cooler is often sufficient. If you plan to go away with a larger group, it is advisable to purchase an even larger one. It is important to remember that the size of the cooler can also affect the cooling capacity and how long the contents stay cold. In fact, a larger cooler may require more cooling elements to keep the contents at the right temperature.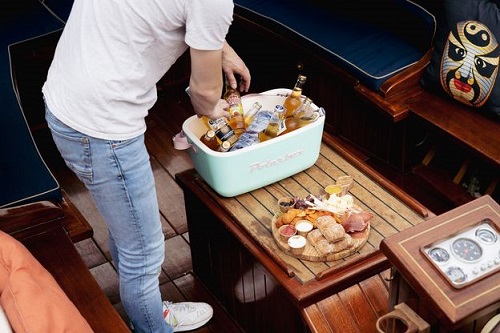 What do you put in a cooler?
Besides the cooling elements in the cooler, you also want to have the space to carry your food and drinks. So what are some handy things to bring in such a box? Actually, you can bring anything you want. However, you should keep in mind that the cooling elements will eventually no longer be cool enough to keep everything cold. You have to keep an eye on food that will spoil when it gets too hot. This is what you want to prevent. You will have to pay more attention to some products than others. Besides food and drinks, you can also store your medicines and sunscreen in the cooler.
How do you maintain a cooler?
In the cooler comes food and drinks, also it is possible that frozen water melts. This can cause the inside of the box to get dirty and wet. So can mold if you don't clean it properly after the day away with the cooler. How to keep such a cooler clean is described below.
After using the cooler, clean it right away. Clean it with warm water and some detergent. Also make sure to dry it well again. This will prevent you from getting mold.
Do not use abrasives or harsh cleaners to clean the cooler, because they can damage the inside of the cooler.
Check regularly to make sure the seal is still working properly. This keeps the warm air from outside from coming into contact with the cool temperature inside the cooler. Often it is a rubber or silicone strip around the lid. If this is no longer good you will need to replace it.
Store the cooler in a cool, dry place and avoid exposure to direct sunlight and high temperatures. This can damage the cooler's insulation and reduce cooling performance.
Can a cooler stand up to rain?
Coolers are not designed to be left out in the rain.In fact, many coolers are not completely waterproof and can allow water to pass through when exposed to rain. If you plan to use a cooler outside and rain is forecast , it is recommended that you place the cooler in an elevated area, such as a table or other raised surface, to prevent water from flowing into the cooler. It is also a good idea to cover the cooler with a rain cover or tarp to prevent water from entering the cooler.
What material are our coolers made of?
The cooler is often an easily portable container and goes everywhere with you. So it must be able to withstand a little rough handling. A cooler consists mainly of plastic, both on the outside and on the inside. Inside the walls there is hard foam for insulation. This keeps the contents nice and cool and the ambient temperature does not affect the inside of the cooler. Inside the cooler box with cooling elements are these coolers to keep the temperature low for the contents. These contain these a certain liquid. It has a plastic or metal shell filled with a water-based gel or a solution of sodium polyacrylate. You let these freeze and then you can place them in the cooler.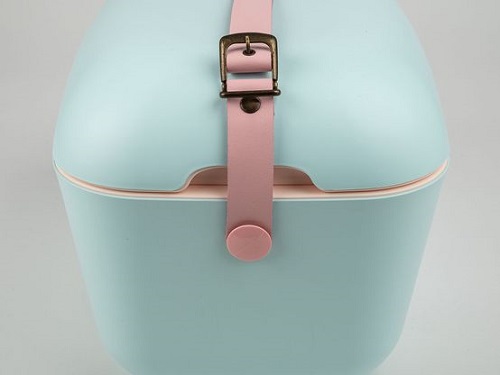 Brands of coolers
In our range we have several brands that offer cool boxes. Polarbox has a wide range of cool boxes. In different pastel colors they are available, so you can also choose your favorite color! Whether you want to go on a day trip or a hike. Polarbox is ready for every occasion. There is a choice of 12 and 20 liter coolers. Besides Polarbox, Cosy & Trendy is also in our range. They are practical but good coolers. This brand also has them of 12 liters, but also of even 24 liters. These coolers are also electric, so on the road and on location they are handy. Finally, the Sunnylife cooler is also in the range for you. With this cooler you will steal the show. They have a nice color and it has a built-in bluetooth speaker! With a capacity of 15 liters, there will be plenty of drinks to go along on this lovely beach day.
What's the difference between a cooler bag and a cooler?
There are so many ways to keep your food and drinks cool. They come in different shapes and sizes. For example, you have the cooler bag. This one is a lot smaller than the cooler, but what are all the differences? These are described below.
The size: Cool boxes are a lot bigger than a cooler bag. So you can also put a lot more in these.
Portability: The cooler bags are easily portable anyway. Smaller cooler bags are also easily portable. When you go for a large cooler, it becomes more difficult.
Material: The coolers are of sturdy construction and can take a beating. The cooler bags, on the other hand, are made of a completely different material and are less able to take a beating.
Price: Cooler bags are a cheaper than coolers. This is because they tend to be smaller and are made of a different material.
What should you pay attention to when buying a cooler?
Are you also looking forward to the hot summer days? In that case, the cooler is definitely a must for keeping you cool again. Then you will first need to see which cooler suits you best and what points you should pay attention to. To make it as easy as possible for you, the points are described below.
Capacity: Choose a cooler with enough capacity for your needs. Think carefully about how much food and drink you want to take with you and how long you want to keep it refrigerated. This will help you determine how big or small the cooler should be.
Portability: Would you like to take the cooler with you on a day trip? Then it is convenient that the portability is good. Of course, this also applies to the picnic or day at the beach, although you won't be lugging it around as much. Consider how important portability is to you and factor this into your choice.
Brand: See a good brand among our options? Then you can delve more into that and purchase a nice cooler.
Price: If you have a budget in mind for the cooler, this is no problem at all. Cookinglife offers the coolers in different price ranges.
The type of cooler: There are several types of coolers, so among them the electric cooler and the cooler with cooling elements. See for yourself what you like best.
Want to buy a cooler?
Are you convinced to buy a cooler? This way you can spend the summer refreshing! With the cooler, bring your favorite, chilled drinks and food with you. Go to the beach or organize a picnic, everything is possible. Would you like to use the cooler soon? Cookinglife sends them to you as soon as possible when you have completed your order!