Maybe you'll soon be living together or you are needing to replace your kitchen knives. For this, it is quite handy to know which knives are best to have at home. It is important to have several kitchen knives for preparing both a simple meal and a more elegant dinner. There is a wide range of knives in our online cooking shop that you can choose from which each provides a different purpose. These range from chef knives, fish knives, steak knives, and utility knives. In this knife guide, we will explain what types of knives you need to prepare a tasty, healthy meal easier.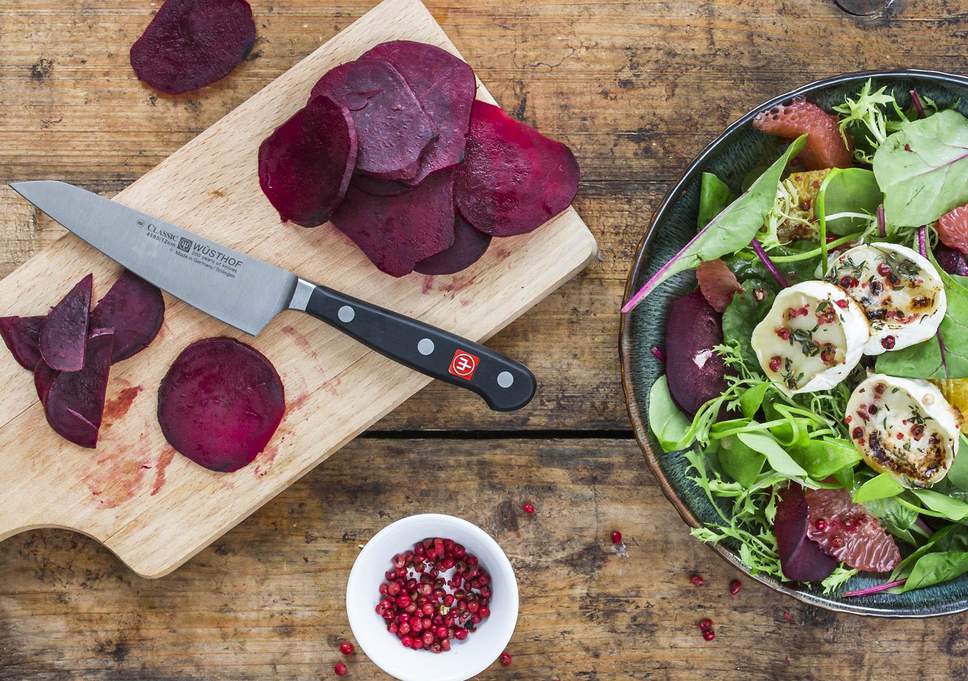 Knife Block
A knife block is an indispensable accessory in every kitchen! The knife block contains all the basic kitchen knives that you need to prepare the tastiest dishes. This starter set is therefore also ideal to give as a gift. Thanks to the block, you can store your knives in a safer and more compact way. This means that all of your knives are in one fixed place, so you will no longer need to search for a specific one. When choosing a knife block, it is also useful to first consider which knives you want to use. Some knife blocks include accessories such as kitchen scissors or sharpening steel. You also have the choice of material for a knife block, like wood or plastic.
Chef's Knife
This is the most important knife to have in your kitchen! The chef's knife is the basis for preparing delicious dishes which means it is used a lot. This knife usually has a blade of about 20 centimetres in length and 5 centimetres wide. This means that you can hold your fingers, that which you hold your food with, along the blade. Because of this, you can cut more safely and quickly! You can also perform heavy cutting tasks because of the wider heel, and perform more precise cutting tasks with the tip of the chef's knife. Thanks to the wide blade, you can scoop your cut food into a pan or bowl without spilling. Are you looking for a basic knife that you can use to cut multiple types of food? Then a chef's knife is a real must-have for your kitchen. It is perfect for cutting meat, fish, vegetables, herbs, and more!
Santoku knife
The Santoku knife can be used for multiple purposes which makes it indispensable in every kitchen. This knife originated in Japan and is used there daily for preparing various dishes. In addition, the name means 'three uses' which refers to the versatility of the Santoku knife. With this knife, you can cut thin slices, dice, and make very fine cuts. The Santoku knife is also has a powerful and wide blade that requires a slightly different cutting technique. When using one, you cut straight down with and pull it off the chopping board straight away. This results in a clean, straight cut. Choose the Japanese all-rounder that makes preparing dishes a lot easier!
Steak knives
You probably know about them, this is the knife that is used in restaurants for your delicious piece of meat. Of course, we're talking about the steak knife! A good piece of meat should be cut using a good, sharp knife. For this, special steak knives have been created to make cutting your piece of meat easy without exerting too much pressure. Steak knives come in two types: one with a serrated edge, and one with a smooth blade. The difference between the two types of is the sharpening used. Steak knives with a smooth blade can be sharpened and cut more easily without pulling fibre through the meat. Steak knives with a serrated blade will stay sharp for longer and are ideal for use in the catering industry. A steak knife is not only ideal for cutting meat but also serves as an eye-catcher on the table. The steak knives are available with different handles, such as wood or stainless steel.
Utility Knife
This knife should not be missing in any kitchen. The utility knife is also known as a vegetable knife and can, therefore, be used for different cutting uses: for finer cuts to peeling. You may also know this knife as an office knife, which refers to the word that was previously used for the pantry. A paring knife is a very handy kitchen knife with a blade between 7 and 11 centimetres. However, there is often uncertainty in the cooking world about the functionality of the paring knife. That's because the knife is often confused with a paring knife or vegetable knife. If you are wanting to carry out very precise cutting jobs, use a utility knife!
Paring Knife
You can, of course, perfectly peel a wide variety of vegetables with a utility knife. However, a paring knife is designed to cut very fine because of the compact and firm feeling in your hand. In addition, the paring knife can easily help you shred herbs and cut thing slices thanks to the extra sharp blade. You can also choose from various materials because the handles differ per manufacturer. For example, you can find handles made of plastic, wood, or silicone. With the paring knife, you can quickly peel various vegetables which makes it a must-have for your kitchen.
Bread Knife
With this knife, you can easily cut through hard bread crust or baguette without crushing the bread. The bread knife has a long and serrated blade, which distributes the force of the knife evenly. In addition, this knife generally has a blade length between 20 and 23 centimetres. Because of this long blade, you can cut the bread perfectly in just a few simple movements! The serrated edge of the bread knife also ensures that you always have a good grip during cutting. It is also possible to cut fruit such as watermelon and pineapple in addition to bread with this bread knife. Choose a powerful bread knife that can be used daily in the kitchen!
Vegetable Knife
The smallest knife in your basic knife assorting is the vegetable knife. Also known as a touring knife, this will help you peel and perform other cutting techniques. You can use the smaller blade for decorating and cutting smaller vegetables. In addition, the vegetable knife has a small and pointed blade that has a rounded shape. In the cooking world, this blade is also known as the 'bird's beak'. This round shape is ideal for touring carrots, for example, as this can easily be done by hand. This makes a chopping board completely unnecessary! With the vegetable knife, choose one that allows you to peel and cut quickly.
Filleting Knife
Filleting a perfect fish is of course easily done using a filleting knife. This knife has a thin and flexible blade, so you can fillet a fish very thin with ease. In addition, the filleting knife is easy to manoeuvre to evenly remove scales, skin, and fat from fish. This knife can also be used to remove a bone or leg from a piece of meat. The filleting knife is a must-have for anyone who is a fan of fresh fish.
Boning Knife
This knife is specially designed for boning meat and poultry. The boning knife also have a long and slender blade with which you can quickly cut along a piece of bone or leg. This knife is very similar to the filleting knife but can be distinguished thanks to the slight curvature. In addition, the boning knife is considerably less flexible than that of the filleting knife! You can also use this type of knife to skin and cut away tendons or fat. Just like the filleting knife, the boning knife should certainly not be missing from your kitchen if you're a meat-lover.
Cheese Knife
Serve various types of sliced cheese in a stylish way using the handy cheese knife. This knife is ideal to cut your favourite cheese as efficiently as possible. In addition, the traditional cheese knife can be recognized by the curved and split blade. With this, you can easily prick the cheese on the knife. Because there are many different types of cheese, various knives have also been put on the market. For example, the copies for hard, young, and mature cheese are available. A cheese knife is a stylish addition to any kitchen!